Featured product
Make your next adventure even more enjoyable with our single-serve powdered oat creamer variety pack - the perfect on-the-go companion for all your coffee needs!

"When you're a dairy-free traveler, finding the perfect cup of coffee can be a challenge. That's why bringing your own creamer is a game-changer. Not only does it ensure you can enjoy your favorite cup of coffee anytime, anywhere, but it's also a small act of self-care that makes a big difference in your travels."
Melissa, Founder of Nod Foods
What's in our creamer?
We use organic oat milk (using certified gluten free oats), organic coconut sugar, organic tapioca solids, natural vanilla flavor, organic gum acacia and calcium carbonate. Only things from nature!

What's not in our creamer?

Dairy, GMOs, gluten, corn syrup, coconut milk, casein (a milk derivative), diglycerides or anything artificial!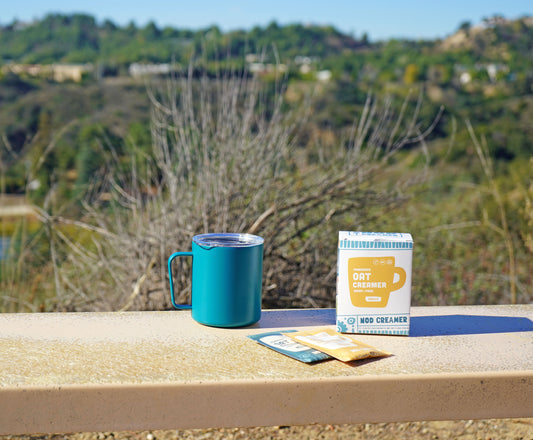 Made for Adventure
Every box includes 10 individual servings conveniently packaged to take with you anywhere so you never have to go without having your coffee the way you like it. Perfect for on the go, camping, the airplane or wherever your next adventure takes you!
Our Values
We're a women owned business and care about what we put in our bodies and how we impact the world around us. This is reflected in our careful ingredient selection. Our boxes are recyclable however we are aware that we still have a long way to go to be a truly sustainable company. We're working hard and one day our goal of using fully compostable package will be achieved.
What people are saying
My friends and I very much enjoyed the compliment to our coffee while we were out shooting. It's absolutely getting added to my backpacking kit, cause I can't tell you how nice it was to have to add to coffee six miles into the woods on a freezing cold morning.
– Ashley
Sarah's camping essential: Make sure to stick a few packets of Nod Food's powdered oat creamer in your pack for a tasty swirl of added creaminess.
– Sarah McLaughlin - Vegnews, New Product Editor