Do you love our unsweetened dairy-free powered oat creamer? Well, now you can get it in a large bulk bag so you're sure to always have your creamy cup of coffee on every adventure. Take it on your camping adventures, leave a bag in your car for those last minute coffee breaks or throw in your suit case for the long trips away from home!
If you're new to our creamers, the unsweetened flavor has no added sugar, a touch of vanilla and provides a wonderful creaminess making it the perfect companion for your special cup of coffee. And, for all you coffee fans out there, oat creamer doesn't mask anything so you can still taste the intricate notes of each roast with hints of vanilla. 
Our creamers are all natural, gluten-free, dairy-free, vegan and non-gmo so they are only made with the good stuff!
Each bag contains 22 servings. 
Ingredients
Organic Oat Milk, Organic Tapioca, Natural Vanilla Flavor, Organic Gum Acacia, Calcium Carbonate.
Made in a facility that processes wheat, milk, tree nuts, soy and egg.
Directions
Add 1 tablespoon to your 6 - 8oz beverage of choice and mix well. For best results use a whisk or electric hand frother.
Options for blending!
Use a fork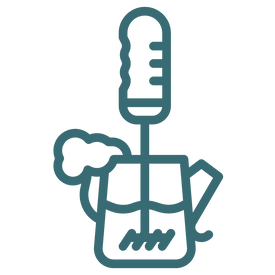 hand froth for 30 sec
Blend for 30 sec
NEEDS TO BE CREAMIER
i WAS HOPING THAT IT WOULD BE SUPER CREAMY, BUT MY COFFEE WAS STILL PRETTY DARK AND I WOULD HAVE NEEDED MORE THAN THE SERVING SIZE PER CUP.