Embrace your inner oat-powered superhero with our 'Powered by Oats' Sweatshirt! Whether you're scaling a mountain or curled up with your favorite book, this cozy sweatshirt is your perfect companion. Crafted for the adventurers who fuel their journeys with the wholesome goodness of oats. The soft, breathable fabric ensures you stay comfortable, whether you're conquering the great outdoors or mastering the art of relaxation indoors. So, gear up, oat enthusiasts – adventure awaits, and you've got the perfect sweatshirt for the ride!
This sweatshirt features a bound ribbed neckband, ribbed sleeve cuffs and hemband, and raglan sleeves. It's made from 50% polyester, 46% cotton and 4% rayon, organic and recycled material blend. Care Instructions: Machine wash and tumble dry on low.
Options for blending!
Use a fork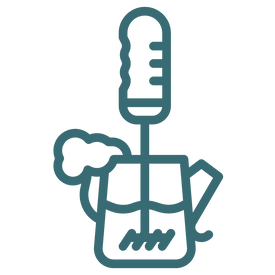 hand froth for 30 sec
Blend for 30 sec