Can't decide between Vanilla and Unsweetened? We don't blame you! Get the best of both worlds with our multi flavor bundle!
It's finally here, a bundle of your favorite dairy-free powered oat creamer thats actually good! Are you ready to enjoy your coffee again no matter where you are? The unsweetened flavor has no added sugar and provides a neutral creaminess while the vanilla creamer has a wonderful sweetness and creaminess making each flavor the perfect companion for your special cup of coffee.
Our creamers are all natural, gluten-free, dairy-free, vegan and non-gmo - only made with the good stuff! 
Each box contains 10 single serving size pouches for easy traveling.  
Ingredients
Unsweetened: Organic Oat Milk, Organic Tapioca Solids, Natural Vanilla Flavor, Organic Gum Acacia, Calcium Carbonate.
Vanilla: Organic Oat Milk, Organic Coconut Sugar, Natural Vanilla Flavor, Organic Gum Acacia, Calcium Carbonate.Contains coconuts.
Made in a facility that processes wheat, milk, tree nuts, soy and egg.
Directions
Add 1 pouch to your 6 - 8oz beverage of choice and mix well. For best results use a whisk or electric hand frother.
Options for blending!
Use a fork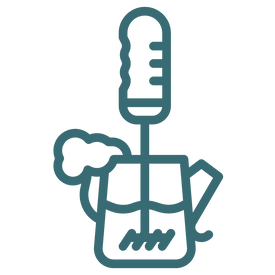 hand froth for 30 sec
Blend for 30 sec
A great non-dairy alternative
These are great little packets. The creamer mixes very well (not clumpy like coconut milk versions I've tried), and the flavor is good. I do usually end up using 2 packets to get the desired effect. Overall, it is a bit expensive, but I have yet to find a better option out there!
SO GOOD and convenient!
These creamers blend beautifully and are so convenient to throw in my bag for trips or anywhere that might not offer a dairy-free version. Just shake it or stir them into your coffee and you've got a premium coffee beverage.