Say hello to our newest flavor, caramel, the sweet nutty flavor we all love. Perfect for fall time, inducing feelings of warmth and coziness with every sip. Nod Creamer is dairy-free powered oat creamer that actually tastes good! The caramel creamer has a wonderful sweetness and creaminess making it the perfect companion for your special cup of coffee.  
Our creamers are all natural, gluten-free, dairy-free, vegan and non-gmo - only made with the good stuff!
Each box contains 10 single serving size pouches for easy traveling. 
Ingredients
Organic Oat Milk, Organic Tapioca Solids, Natural Vanilla Flavor, Organic Gum Acacia, Calcium Carbonate.
Made in a facility that processes wheat, milk, tree nuts, soy and egg.
Directions
Add 1 pouch to your 6 - 8oz beverage of choice and mix well. For best results use a whisk or electric hand frother.
Options for blending!
Use a fork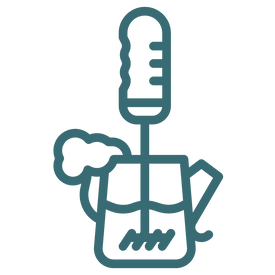 hand froth for 30 sec
Blend for 30 sec