It's finally here, a bundle of your favorite dairy-free powered oat creamer thats actually good! Are you ready to enjoy your coffee again no matter where you are? The vanilla creamer has a wonderful sweetness and creaminess making it the perfect companion for your special cup of coffee. And, for all you coffee fans out there, oat creamer doesn't mask anything so you can still taste the intricate notes of each roast with hints of vanilla. 
Our creamers are all natural, gluten-free, dairy-free, vegan and non-gmo - only made with the good stuff!
Each box contains 10 single serving size pouches for easy traveling. 
Ingredients
Organic Oat Milk, Organic Tapioca Solids, Natural Vanilla Flavor, Organic Gum Acacia, Calcium Carbonate.
Made in a facility that processes wheat, milk, tree nuts, soy and egg.
Directions
Add 1 pouch to your 6 - 8oz beverage of choice and mix well. For best results use a whisk or electric hand frother.
Options for blending!
Use a fork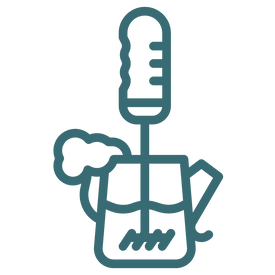 hand froth for 30 sec
Blend for 30 sec
Great stuff for backpacking coffees and cold-soak oats
My wife uses Nod Foods Vanilla Oat Creamer for her morning backpacking coffee, but I also found that it adds a perfect amount of vanilla and sweetness to my overnight cold-soak oats. The small pouches allow us to fine tune our portions and weight for backcountry meals.
I like the Vanilla Oat creamer very much .